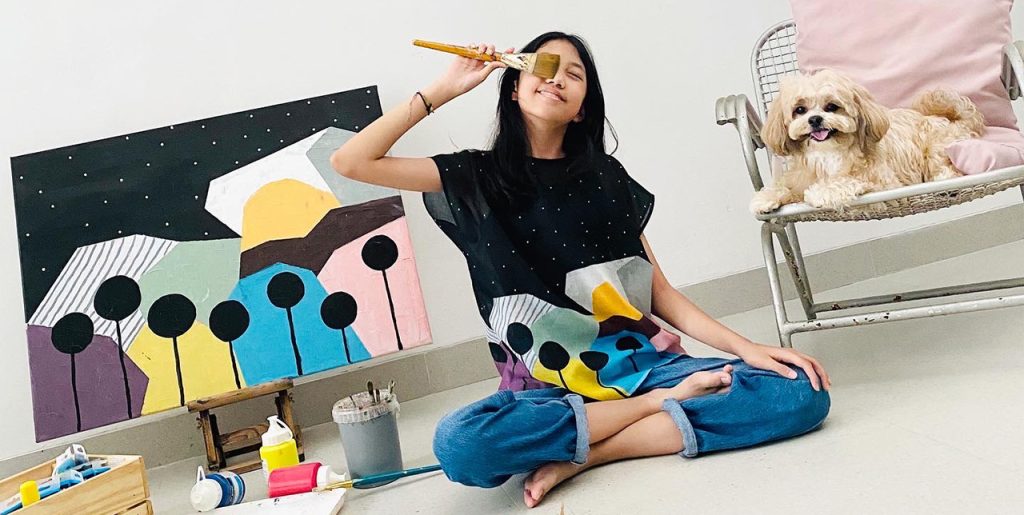 Jaimee Maulana is a young artist from Indonesia (born in Jakarta 2007) and her love for art started when she was 2. She can spend hours drawing, doodling, or painting with all the materials she needed to create and her creations are usually inspired by her daily life experience. In 2017, her mom printed her drawings into scarves and posted them on social media. It inadvertently became a business… and that's how it all started.
Contacts
"I believe when you are really focused on doing what you like, when you put your heart into it, a lot of good things will come to you."
Projects And Collaborations
2023
Festival Rumah Kuat Ciptadent > Giant poster design to color with kids at the event.
Wilio > Mural design for their store in Grand Indonesia Shopping Mall, Jakarta.
Nature E Indonesia x Solvo > Merchandise design for Nature E300
SOLVO > December Collection (TOPENG)

2022 
Global Art Indonesia

> Totebag Design

Velocity Jakarta (women cyclist community) Illustration for their jersey
Collaboration with SOLVO – Fashion Brands that supports Local Illustrator to create together with the #BanggaIlustratorLokal campaign
School visits with Yayasan Plan International Indonesia to Ruteng, NTT. Painted a big canvas together with 40 students, and ensure that children know their rights and remind them to never be afraid to dream BIG. As part of National children's day commemoration. 

2021 
Tiki Taka

> Designed their restaurant uniform

Velocity Jakarta

(women cyclist community) designed their 1st Jersey and vest

Sekolah Dwi Matra

> designed their Alumni Parca Jacket

Bake for Bike

> designed their packaging

Young living Indonesia Essential Oils

> Making their apron design

2020 
Collaborated with

Masker untuk Indonesia

mask design

Greenfields

milk mug design

KC Sleepwear

– illustrations for their sleepwear

Invited by

Oscar Lawalata Culture

to participate as one of the 100 illustrators in an exhibition on Keep art alive campaign with Harimau Sumatra as a theme

Kahitna Band

> designed their mask and scarf for the 34th birthday of Kahitna

2019 
Collaborated with

Yayasan Plan International Indonesia

to spread the message of gender equality to children in NTT and draw together. These drawings would later be used as mask designs during the Covid-19
pandemic by the foundation

Collaborated with the Kids in NTT to design merchandise (scarves and totebags) to support

Plan 50th Anniversary Event

As

"Sahabat PLAN"

– school visits – shared the valuable principle of gender equality to children in Nusa Tenggara Timur and drew together as part of a collaboration with

Yayasan Plan International Indonesia

Collaborated with

Dots Indonesia

(clothing line)

KC Sleepwear

– illustrations for their sleepwear

Greenfields

milk mug design

2018 
Showcased my products in

Brightspot

the biggest art market ( I was the youngest artist)

Participated in

Semasa Art Market

Tandamata Indonesia

– curated online shop

Greenfields

milk mug design

KC Sleepwear

– illustrations for their sleepwear

2017 
Participated in

Itje Her

art bazaar.

KC Sleepwear

– illustrations for their sleepwear

Was 1 of the 20 artist to collaborate with

Braun Buffel Art Project

to paint
their Bull mascot with the theme "Paint for Love"